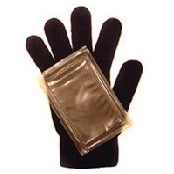 Ultra Crash Glove Pad
Buy a pair & save!
The perfect alternative to expensive padded gloves.
Use any pair of gloves with our Glove pad! Change wet gloves, but keep using the same great pad for many years to come!
Figure skaters are all familiar with having to change their padded gloves multiple times during practice, and sometimes having to wear more than one pair at a time to have enough padding. With the SkatingSafe UltraCrash glove pads, you only need one pair of pads to last you all throughout practice and for many years to come! Simply change your gloves when they get wet and keep the pads. Made out of a hypoallergenic material that will not break down over time or cause any skin irritation.
One size fits all
Weight
2oz
Dimensions
3.75" x 2.25" x 3/16"
---
---
More from this collection