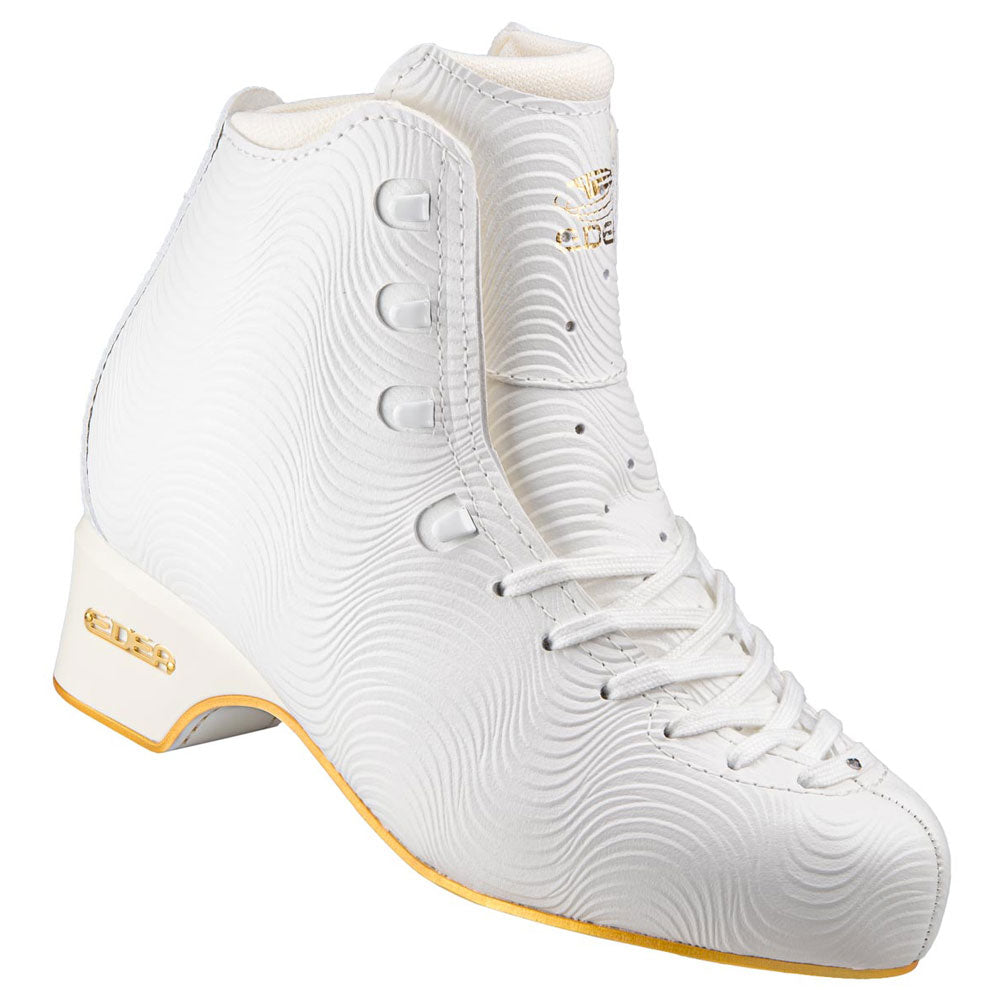 Edea Wave
Available only in White color. Start a fashion rage with illusion and grace. Pay close attention to the 3D texture and evolved lacing system. This boot is not like any other!
The Wave is a ready-to-skate boot designed with adults or the serious beginner in mind.
Be ready to stand in the spotlight! Our new 3D-textured material paves the way for the next generation. Keep the same features you love about Edea like durability, memory foam comfort, water repellent, and lightweight properties PLUS the sleek, modern look of the golden sole and white heel of the Piano (a champion favorite)!
Featuring four hooks instead of the traditional three, you will discover just how much quicker you can get to the ice. Lace up, skate, unlace and done! It's that easy! Just remember to loosen the laces all the way down to the toe to maintain a comfortable width!
The unique EDEA Footbed is torsionally rigid but with just a bit of vertical compression, that creates a lower center of gravity in the Skate, creating a lower displacement which greatly increases stability and control.  The Footbed and bottom cover will not absorb moisture and WILL Securely hold the special EDEA screws, used to mount the Ice Blades. 
n most cases the Break-In period is just a few hours, not days, weeks, or Months, but the most important Features are how LIGHT and COMFORTABLE the EDEA Wave is!
The heel pocket firmly holds and locks the heel in place, giving you more control and power, optimally obtained with the correct lacing of the boot. We have made lacing easier with the addition of a fourth hook under the point of flexion. This hook is set at a slightly different angle with the purpose of following the natural line of the foot. Sense a snugger fit at the instep and around your entire foot.
Notice the windows encompassing the hooks. The extra depth around the hook that the windows provide allow the laces to easily wrap around the hook and lock. 
The hooks are set so they are sunken in to help avoid possible snags between them. Having the hooks set into the windows allows the boot to be much more adherent to the foot in order to provide a more secure fit.
The embedded hooks are made of hardened and forged carbon steel, and are therefore extremely robust and resistant.
Closed and locked in. Feel the difference.
---
---
More from this collection