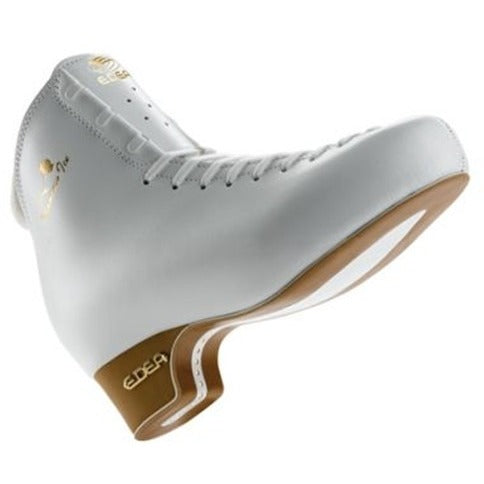 Edea Flamenco
Moderate Stiff Dance Construction 70 Sizes: 225 through310 in 5mm increments. Full and Half Sizes Colors: Ivory and Matt Gungray Type of Skating: ICE Dancing Training Level: Mid Level Dancers through Senior Level Dancers

The EDEA Flamenco ICE is the Ultimate Skating Boot for ICE Dancing . Ultra Light Moderate Stiff Dance Construction with Beautiful Leather finish outside and perforated MicroFibre Lining. The Flamenco ICE is made with Revolutionary NEW Ultra Lightweight Materials which means that the Flamenco ICE is 25% to 45% lighter than comparable Skating Boots. Flamenco ICE is designed for very High Performance Ice Dancing and is incredibly comfortable.

The MicroPerforated Leather Lining is ventilated so the perspiration moisture dries quickly. The Anatomically Shaped Padding and Formed fit of the boot is shaped by the Thermoformable Structure and provides the best in foot contact and control while giving the movement range to allow Great Performances. Other features are the Rounded Heel Shape which more evenly distributes the weight and adds torsional stability, the Full Wrapped Padding, the Anatomically Shaped Extra Foam Padded Tongue for maximum Comfort, and the Sewn in strong forged long Hooks. The Footbed is torsionally rigid but with just a bit of vertical compression, that creates a lower center of gravity in the Skate, that creates a lower displacement which greatly increasing stability and control. The Footbed and bottom cover will not absorb moisture and WILL Securely hold the special EDEA screws, mounting the Ice Blades.

EDEA Skates fit a great majority of Skaters (because of the newly designed shoe lasts), right out of the box, but some have need of special accommodations to give that perfect fit. EDEA Skates ALL have a Thermoformable Structure which allows manipulation of the boot to give the perfect Custom fit without the Custom price . EDEA Skates DO NOT use gel packs (the reverse of a freezer ice bag) that are heated in an oven, then the foot inserted to shape the inside padding of the boot only, this method allows change and movement of the gel in the pack over time, which is not a good thing. EDEA Skates DO use very high tech materials (similar to a carbon fiber or Kevlar material) which can be shaped using Heat Guns and Special Shoe Lasts, in very specific locations or general widening or narrowing of the Skating Boot. Once the boot is re-shaped, it will stay in that shape, until the shaping process is changed again.
---
---
More from this collection